• Said in front: I have been far away from neuroscience study since 2018, I've already forgotten all the naming rules and abbreviations of even the most common hormone. I can't guarantee that I am writing with rigour. So I hope you just read this passage as a tale.
I recalled this rare syndrome a few days ago when I read a post on ZhiHu, where people share the stories they just made up. The poster tells:
"我四年级时发现:如果有一天你的眼睛突然看不见了,你的大脑会自动补充你的视网膜无法捕捉的图像,所以在短时间内,你完全不会意识到自己已经瞎掉了的事实。
那段时间,我妹妹刚动完手术,切除了甲状腺。她的身体会渐渐不再分泌甲状腺激素,必须靠人工服用激素来维持生命,但是还在恢复期,所以暂时还没有开始服用激素。结果就是,她体内的甲状腺激素逐渐变得远远低于常人。(备注:甲状腺还是一个危险很小、相对比较常见的疾病,所以大家不用担心)
甲状腺激素是人体关键的激素之一,我们生活中比较常见的甲亢就是甲状腺激素分泌过多而引起。
如果甲状腺激素过少,就会产生和甲亢相反的状况。身体的基础代谢会刷刷刷刷刷刷刷刷刷刷刷刷刷刷刷地降低,具体比较常见的短期表现为:吃不下饭,吃一点点东西就会变胖,理解力、智力下降。
还是一个副作用,就是暂时丧失视力。(那个时候我还不知道)
总之,有一个周末的早上,我去房间里把妹妹叫醒,洗脸刷牙吃早餐,一切看似无恙(事后想想,这是最细思极恐的地方)。
我们全家人和妹妹都没有发现任何不对劲的地方。
后来不知道谁突然打开电视看新闻,电视里正在播放汤姆和杰瑞的动画片。
妹妹突然说:"为什么电视没有图像?"
这个时候我们才意识到:对妹妹来说,她听得见电视里的声音,却看不见电视里的图像!
我们马上去看医生。医生说,她那天早上醒来,一只眼睛完全失明,另一只几乎完全失明。因为甲状腺激素过低,她的眼睛可以探测微弱的光源,但是完全无法看清图像。而在她醒来、起床、穿衣、从卧室下楼、走到客厅,这一系列的过程,她以为自己看到的那些场景,全部都是由她的大脑补充的。在这一整个过程中,她可以毫无察觉自己丧失视力的事实。"
This is hard to imagine for people who always say "seeing is believing". But the fact is that our Sensory is not as reliable as we thought, especially vision. I believe you always find images like this: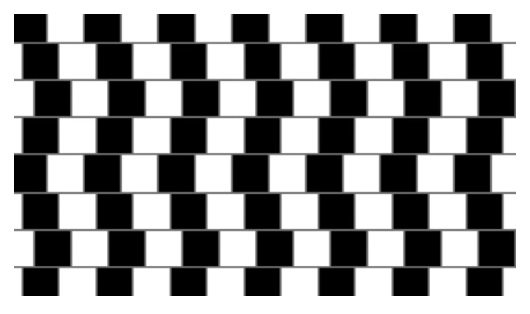 At first you were shocked, but later you might accepted that "It's not a big deal, just some trick that cheated my eye, or my eye cheated my brain. It's not too weird to understand." People can understand why and how we wrongly judge the straight line as curve because of the confusing background. But, when something like the poster said tells us that our whole vision could be generated by brain but not saw by eye, people can't simulate or imagine such weird thing like that.
I myself trusted the poster completely, for I was already shocked by another example three years ago. Here's a Fragment on "The Astonishing Hypothesis" by Francis Crick.
"There is one kind of visual defect that is so surprising that people have been known to doubt that it could possibly exist. This is known as Anton's syndrome or "blindness denial" The patient is clearly unable to see but is unaware of that fact. Asked to describe the doctor's tie the patient may say that it is a blue tie with red spots when in fact the doctor is not wearing a tie at all. When pressed the patient may volunteer the information that the light in the room seems a little dim."
I have often found that when talking to someone over the telephone whom I have not met I spontaneously form a crude visual image of his or her appearance. I held several long telephone conversations with one man whom I must have pictured in his fifties, rather thin, with rimless glasses. When, eventually, he came to see me I found he was in his thirties and was decidedly fat. It was only my surprise at his appearance that made me realize that I had previously imagined him otherwise suspect that a person suffering from blindness denial produces such images, probably because the brain damage is such that these images do not have to compete with the normal visual input from the eyes.
Recently we are obsessed with something called virtual reality, it might be the ultimate way for human being to interact with computer. We've been dreaming about it since last century, we pictured in the movie that human brains are linked by wires with computers, and through the wire our conscious become omnipotent in a giant computer. But look at what we've done today, we just wear monitors on head and hold handles which detect our movement, and we proudly call it "Virtual Reality".
So, since we randomly found that some brain damage causes us to believe in what we are visualizing in brain, could it be controlled? Then, with some drug to block specific neurons, we can dive into the world completely made up by our own brain, like the movie Inception.